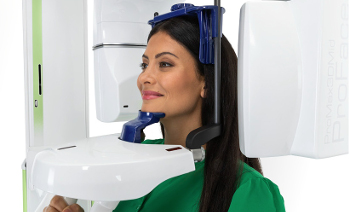 Dr. Frederick Stange places a high level of importance on staying on the cutting edge of technology when it comes to patient care at our practice in O'Fallon, which is why we recently added a new, state-of-the-art imaging system to our office: the Planmeca ProMax® 3D Mid X-ray.
Digital X-rays for Advanced Diagnostics
A Better Patient Experience: The open-patient positioning and side entry minimize errors caused by incorrect patient positioning, and allow Dr. Stange to monitor patients from both the front and side. The open-concept design provides easy access for all patients: standing or seated.
Safety: The Planmeca ProMax is a digital X-ray system, which produces highly detailed imagery using up to 80% less radiation than traditional dental X-rays. Although the radiation emitted from traditional X-rays is completely safe when proper protocols are followed (lead vests), digital imagery eliminates it nearly altogether.
Better Diagnostics: Dr. Stange is able to obtain better diagnostic images, which enables her to provide better treatment for her patients. He has diagnosed some interesting cases since he received the new machine that might not have been picked up by traditional X-rays.
Dr. Stange wants to provide the best treatment available with the best materials and equipment. He always looks at the best available technologies to benefit her patients, which is why he is so excited about the Planmeca ProMax 3D.